"Very Vegan Vibes": VOSSEN x VEGANISTA. Die neue kunterbunte & vegane Handtuch-Kollektion "VOSSEN x VEGANISTA" sorgt im Sommer 2023 für eine Extraportion VEGAN ENERGY, MADE IN AUSTRIA.
Wenn zwei nachhaltige Qualitätsunternehmen aus Österreich aufeinandertreffen, entstehen innovative und farbenfrohe Synergien. Doch was haben die hochwertigenFrottierprodukte von VOSSEN und das ehrlich-herrliche Eis von Veganista gemeinsam? Beide sind zu 100% vegan, Made in Austria und so bunt wie das Leben. Mit der brandneuen Kooperation "VOSSEN x VEGANISTA" verbinden die zwei nachhaltigen Marken nun ihre wichtigsten Werte und kreieren vegane Hand- und Strandtücher sowie wohltuende Hamam-Tücher in vier leuchtenden, angesagten Farben. Inspiriert von den Veganista-Eissorten "EIS DATE", "NOUGAT ME GOOD", "STRAWBERRYTELLA" und "KISS THE COOKIE" haben die Pieces ihre Farben erhalten. Mit ihnen lässt sich die Sommerzeit mit viel guter Laune und erfrischend vegan einläuten.
SO VEGAN, SO SUSTAINABLE!
Farbenfrohes Heimspiel: Burgenländisches Traditionsunternehmen trifft bei dieser Kooperation auf veganes Kult-Eis-Label des veganen Schwestern Gründer-Duos aus dem Burgenland. Mit der gemeinsamen Kollektion "VOSSEN x VEGANISTA" zelebrieren die beiden Brands von nun an ihre gemeinsamen Werte sowie ihre geteilte Vision für eine bessere Welt. Der wertschätzende Umgang mit Tieren und der Natur liegen beiden Unternehmen sehr am Herzen.
Die brandneue Kollektion wird gänzlich ohne tierische Hilfsstoffe produziert und ist somit zu 100% vegan. Dank der hohen Qualitätsansprüche von VOSSEN weisen die Tücher eine außergewöhnliche Weichheit auf und sind besonders sanft zur Haut. Darüber hinaus darf man sich bei VOSSEN Handtüchern über eine lebenslange Farbgarantie freuen. Sie sind medizinisch getestet und OEKO-TEX® zertifiziert.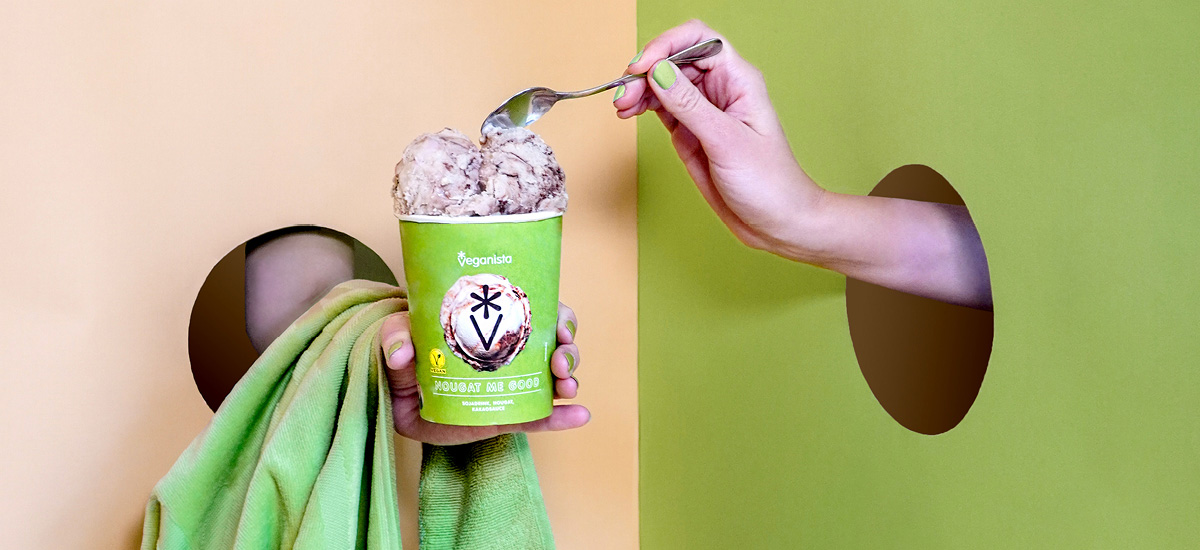 SO COLORFUL, SO SOFT!
Die neue Kooperation präsentiert sich mit einer stylischen Farbstory und ist so vielfältig wie das Leben. Während sich die flauschige Hand- und Strandtuch-Kollektion einfarbig in den kräftigen Farben Blau, Grün, Rot und Violett zeigt, sind die wohltuenden Hamam-Tücher in den gleichen Farbtönen mit dem ikonischen V für Veganista geschmückt: Geometrische Elemente und zarte Streifen verleihen den Träumen aus Frottee eine kreative und unverkennbare Note.
DIE "VOSSEN x VEGANISTA" PRODUKT- & FARBPALETTE
Die leuchtend-frischen Farben versprühen pure Lebensenergie und machen Lust auf Sommer, Sonne, Meer und erfrischendes, veganes Eis. Erhältlich in vier verschiedenen Farben, inspiriert durch ausgewählte Veganista-Sorten, vermitteln die Hamam- und Beach Towels jede Menge positive Energie:
• INTO THE BLUE WITH: "EIS DATE": Die himmelblauen Handtücher stehen für das köstliche Creme-Eis mit Brownie-Stückchen, herrlicher Himbeersauce und purer Vanille. So tiefblau wie das Meer, lässt dieses Kollektions-Piece Erinnerungen an warme Sommertage, bei strahlend blauem Himmel erwachen.
• GO GREEN TO FEEL GOOD: "NOUGAT ME GOOD": Cremiges Nougateis trifft auf Schokofudge-Sauce! Die hellgrünen Handtücher sorgen im Handumdrehen für frühlingshafte Stimmung im Badezimmer und sind ein wahrer Blickfang am Strand und im Hamam-Bad.
• LADY IN RED: "STRAWBERRYTELLA": Das beliebte Veganista Erdbeercreme-Eis mit Stracciatella-Schokostückchen präsentiert sich als flauschiges, rotes Handtuch – klassisch, elegant und ästhetisch in der Farbe.
• FEEL THE LAVENDER HAZE WITH: "KISS THE COOKIE": Ob als stylisches Strandtuch für lange Sommertage am See oder als farblicher Akzent im Badezimmer – die violetten "Kiss the Cookie"-Tücher, inspiriert vom zart-schmelzenden Schokoeis mit knackigen Schoko-Cookie-Stückchen, sorgen sofort für positive Vibes.